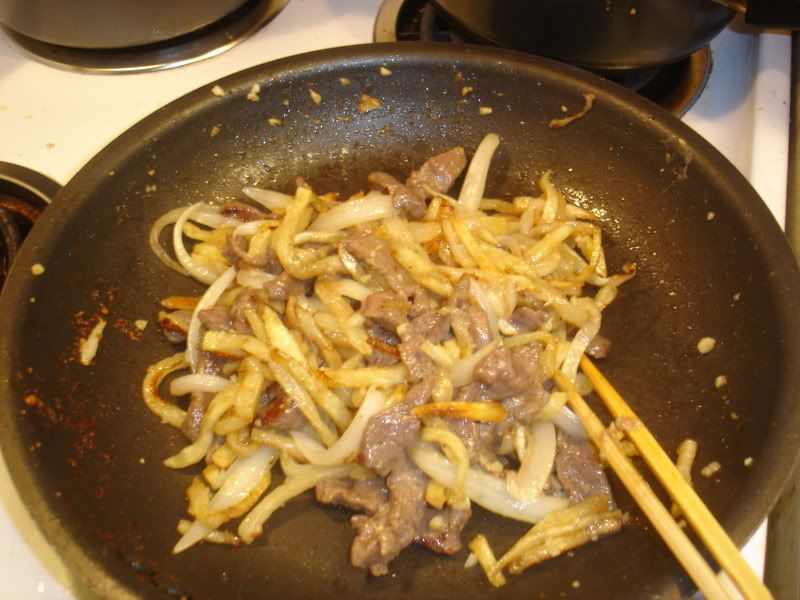 Thit Bo Xao Khoai Tay (Beef Stir Fry with Fries):

For this dish you don't really need quality meat any cut is fine. I used the rest of the flat iron steak i bought. The marinade is very similar to the bo luc lac.

Beef Marinade:

-1 lb of flat iron steak cut into long strip
-2 cloves of garlic minced(use half save the half for cooking)
-1 shallot minced
-1/2 teaspoon of salt
-2 teaspoon of sugar
-couple pinch of ground pepper
-1 teaspoon of fish sauce
-1 teaspoon of soy sauce.

Other ingredients:

-cooking oil for cooking and deep frying the potatoes
-1 potato cut into long thin strip (you can also use frozen precook fries)
-1/2 onion sliced into thin wedges

Method:

-marinade beef for about an hour
-if you're using homemade fries then you'll need to deep fried the potato strips until it's golden and crispy. Remove from oil and set aside. If you are using the frozen fries then you can reheat them in the oven or flash fry them in hot oil.
-Heat up 1/2 a tablespoon of oil in a pan or wok.
-add the rest of the minced garlic
-add the beef strips and stir fry until the beef is no longer red.
-add the slice onions to the beef and continue to the stir until the onion are cook
-add the the potatoes and stir fry for couple more minute and you can add more fish sauce if you like

At this point you are done cooking and can serve with rice. The potatoes are kinda like hash brown at this point (shown in the pic above). I, however, like my hash brown extra crispy. So i keep the pan on high heat for a few extra minutes to continue to sear the fries and beef until they are crispy and even a little burned. This is how my mom makes it and I just love it this way!